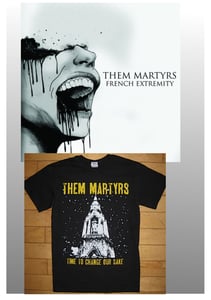 €

9.00 - On Sale
5 Track Cd and T-Shirt. Over 20% off.
5 Track CD EP
1.Temple
2. Through Ritual
3.Laying Still
4.Rendered Empty Vessels
5.Pink Luggage
Listen to the CD
Latest tracks by Them Martyrs
Heavy Metal Review 9/10
"I could see pulling large crowds here in the US. Get your fucking asses over here and play some shows!!!!
Drop-d.ie 9/10
"It is their time. Them Martyrs are here to stay, and Ireland's underground is a much better place for it."